Interview with Foo Fighters Bassist Nate Mendel
In 1994, a heartbroken and jobless Dave Grohl used his hidden song writing talent to produce an album simply titled, "Foo Fighters."
The band was a one man show until Grohl picked up ex-Sunny Day Real Estate member Nate Mendel to play bass for his growing group.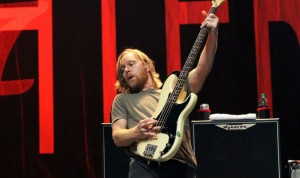 Through the last decade Mendel has seen the ups of multi-million album sales and the downs of a revolving door of band members.
Mendel's management, Nasty Little Man, granted me an interview to get the word out for their show at the Pensacola Civic Center on Jan.20.
Gus Brandt, the band's tour manager, is from Pensacola. On many occasions Brandt has treated the boys to the best stay in Pensacola: the neon condos on Pensacola Beach Blvd.
"My old punk rock band Christ on a Crutch played there in 89′ and Gus was the promoter.  He was out of town. But it's kind of funny we ended up working together for so long," Mendel said.
Punk band Against Me! opened the tour to a sold out crowd of 8,000.
The last time Against Me! came through Pensacola they packed the Gutter Lounge with sweaty kids from stage to the bar.  Playing a larger venue to people who were less than "die hards" didn't bode well with their more intimate fans.
Anticipating Against Me! fan reaction to the Foo Fighter crowd Mendel said, "We play a little bit louder and heavier live.  If they come to the show they might see that it's a little more compatible than you think."
Gauging fan reaction from the upper level, there was little movement on the floor.
Crowd reaction wasn't an issue when the Foo Fighters came on stage.
The band travels with a group of four session players who accompany the central group throughout the show.
One player in particular is Pat Smear, the original Foo Fighter guitarist, who is now playing rhythm guitar ten years after originally quitting.
When Smear is introduced in concert, little is said about his return to the band.  Mendel didn't say much about his return in our interview either.
"We're just taking it as it comes.  We have the four core members. But we don't really go off and do things just as the four of us.  He's kind of both, a touring member and a full time member."
But when I asked him why Smear didn't have more playing time on their newest record, Mendel said he's still primarily a touring member.
Starting with interviews going back to Rolling Stone's introduction of the Foo Fighters in 1995, Mendel has been pegged as the quiet, artsy member.
That stigma has stuck as countless Foo Fighter interviewers have passed over Mendel, chalking it up to his quiet disposition, hangovers and a recent surgery.
But his former band, Sunny Day Real Estate, decided it would have liked the treatment Mendel receives today.
"We were opposed to commercialization, kind of in any form.  Why do you have to advertise yourself as a band?  I'm proud of the way we did it…  Let's not take photos, let's not do press, and work to sell ourselves as a product," Mendel said.
Mendel was quick note that the Foo Fighters are a different band with different people, so the same approach Sunny Day Real Estate took to promote their music doesn't apply here.