Loretta Lynn Concert Review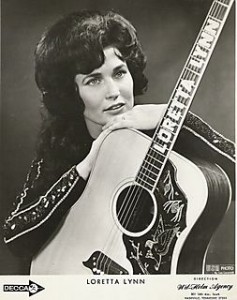 If the shine of her sequined gown wasn't enough, "She's the most important person in country music" announced that country singer Loretta Lynn had arrived to the stage of Pensacola's Saenger Theater on May 15. Loretta's performance in Pensacola was the first after hurting herself in an accident at home. She joked that "if my nose starts bleeding, think nothing of it – I have a Kleenex."
Her jovial way of lightening sad tales set the tone for the evening, and her career.
Loretta performed all of her hits, including controversially themed "The Pill" and "Who Said God is Dead," the latter sung during a gospel medley, and I wouldn't dare forget Loretta's closing number, "Coal Miner's Daughter."
Songs from Loretta's 2004 comeback album "Van Lear Rose" were missing from the set list. Critics praised "Rose" for making country music hip again. Jack White (from the White Stripes) gathered unrecorded tracks and arranged new songs with Loretta for the album. In a similar fashion, the newly adorned country-crooner Elvis Costello resuscitated Allen Toussaint's career with "The River in Reverse" in 2006.
In a CBS interview, Jack White honored Loretta for breaking down walls for women's rights. Contrary to White's belief, however, few within the women's liberation movement of the 1960s would herald a woman who sung about her abusive husband but would not consider leaving him.
Perhaps she would accept praise for being a mother, "I didn't need [my husband] but he was my kids' daddy. Why leave hearts laying on the floor for me," Loretta told David Kohn of CBS. Loretta thinks staying with her husband is the reason she has a relationship with her children today. Today, twins Peggy and Patsy perform as The Lynns on tour with their mother.
Much of Loretta's career was shaped by husband Oliver Lynn, nicknamed Doo.' He started his wife's career with a seventeen dollar guitar bought from Sears Roebuck.  Problems with Doo found their way into Loretta's music throughout her career. Records such as "You Ain't Woman Enough (To Take My Man)," and "Don't Come Home A'Drinkin' (With Lovin' On Your Mind)" nod to issues with Doo. The couple remained married until Doo's death in 1996. "I miss everything about him," Loretta says. "There was no decision I ever made without talking it over with him."
The stories behind Loretta's five decade career were the main attraction on Friday, but the star stood back on several occasions to let her team hold the spotlight. The Lynns warmed up the audience and introduced a short set by Loretta's backing band Bart Hansen and the Coal Miners. Later Loretta invited friend Mark Collie to perform "Even the Man on the Moon is Cryin'." A trio of male backup singers swelled during Loretta's gospel medley, which gave way to their own songs including a cover of Dick Burnett's "Man of Constant Sorrow."
In ninety minutes Loretta Lynn and her family band shared with Pensacola what it means when she sings "if your eyes are on me, you're looking at country."